This post may contain affiliate links. I only choose products I use myself and trust. If you purchase using my special link, I may make a small commission at no extra cost to you. Read my full disclosure policy here. Thank you for supporting Simple Natural Mama!
As summer comes to a close and school starts, we inevitably head into the fall season. With that comes cooler temperatures, falling leaves, soups, pumpkins, and fall festivals… Just to name a few things we enjoy in the fall!
But have you thought about your health as we head into the fall season? With school starting and weather changing, fall also brings about colds and sickness. It's just the time of year – but it doesn't have to be! It is possible to support your immune system this fall with a natural regimen. So read on, natural mama, and take charge of your health… Be proactive in supporting your body and your family naturally, with a few key diet and supplement changes.
Following are some ways we can arm our family with a natural regimen to support the immune system and the body's normal function, keeping us and our families feeling their best.
Here is a look into my preferred natural regimen, or more fitting, my preferred sustenance for fall:
Fruits and vegetables
This is fairly self explanatory, but real food and nutrition is preferred over any other kind of processed food you can find. Plants are the best fuel for us! Your body feels better, and you feel better, too. There are so many fruits and vegetables out there to choose from! If you have trouble eating them, trying cutting them up in advance to have for snacks, sauteing lightly with butter, or making into smoothies. It's also great to get a lot of frozen fruits in the fall, and keep eating the fresh veggies that are in season – pumpkin, squash, etc.
Filtered water
Water is the foundation of life, and our bodies are an estimated 60% water – it exists in every organ, bone, and fluid within us. It is vital for us to drink water each day for our health, and that certainly goes for in the fall, too. The Safe Drinking Water Act and the EPA came up with maximum contaminant levels, a legal threshold limit on the amount a substance is allowed in the public water (your city water and some bottled, too). Not every contaminant is at a zero, which means that your water can legally contain toxic elements such as copper, which can lead to liver and kidney issues. Hence – filter your water!
And generally you should be drinking between 25-50% of your body weight in ounces of water per day – so it's safe to say a half a gallon a day. Drink more water, hydrate your body, and see the benefits to your health as everything works better together!
Vitamin C (food source, camu camu or acerola)
Vitamin C is a powerful antioxidant, and it's also anti-inflammatory. It is arguably the biggest natural support to the immune system and protects against damaging free radicals. Our bodies can do some incredible things, but they cannot store vitamin C. This means we must consume it daily if we want to reap it's benefits, especially in the fall!
Organic camu camu berries and organic acerola berries make up my favorite food-based vitamin C powder. Added are organic orange peel and stevia for taste. Because of this combination, it holds a host of other vitamins and minerals, antioxidants, and bioflavanoids.
Elderberry is high in antioxidants and is a staple for fall natural medicine cabinets. It's arguably the best defender for coughs, colds, flu, and various infections. It is one of the best herbs for promoting overall wellness and providing immune support. Elderberries contain organic pigments, amino acids, vitamins A, B & C..and more. Fun fact: elderberry was even used to treat a nationwide flu pandemic in Panama in 1995.
P.S. Now through 8/26, shop at my favorite herbal company and save 20% on my favorite elderberry using the code ELDER2019! And while there, take the Great Elderberry Challenge complete with printables for healthy fall habits and remidners!
P.P.S. Try a FREE 2-oz Elderberry Elixir! Just pay shipping, one per household. Shop here for the special offer!
Astragalus root
Astragalus is an herb, and the root is used to make tinctures, teas, and extracts with. It's been used traditionally in Chinese medicine for thousands of years. It's taken for the common cold, seasonal allergies, and to strengthen and regulate the immune system. Fun fact: There are over 2,000 known species of astragalus, yet only two are primarily used in supplements. You can find it in Immune Biotic.
Cod liver oil is literally an oil made from the liver of cod fish. It is arguably better than simply fish oil, and is a natural source of vitamins A and D, plus brain-boosting omega-3 fatty acids. It has powerful anti-inflammatory properties and may reduce blood pressure. Our pediatrician even recommended it along with a daily herbal liquid multivitamin for the boys. This cod liver oil is one we trust; It's sourced from clean waters around Norway, and is third-party tested and is free of heavy metals and contaminants.
Magnesium
Magnesium is essential for all bodily systems as it maintains normal muscle and nerve function, supports a healthy immune system, maintains heart rhythm, and strengthens bones. It is present in every organ and a vital mineral for over 300 biochemical reactions that regular our health and wellness. A deficiency of magnesium is arguably, then, associated by some degree to every illness. If you experience muscle spasms, migraines, anxiety, leg cramps, or insomnia, you may be deficient. So get you some Good Night Lotion!
Dandelion leaf/root
Dandelion is more than just a weed (flower)…It's name actually comes from the French dent-de-lion, a translation of medieval Latin dens lionis, or lion's tooth, named so from the jagged shape of the leaves. Dandelion is most commonly used in herbal medicine to aid in digestion and help to stimulate the appetite. Dandelions are more nutritious than the more common spinach, with over 8x the antioxidants and 2x the calcium. They taste slightly bitter, similar to arugula, another green. You can find it in Calm and Clarity – for calm mood, healthy energy, and mental clarity.
Raw honey
Raw honey is the most original sweet liquid that honeybees produce from the concentrated nectar of flowers. It is collected straight from the source, the beehive and honeycombs, and is totally unheated, unpasteurized, and unprocessed. It is full of phytonutrients (plant nutrients), and has antioxidant and anti-inflammatory benefits to maintain health. It can be used to counteract indigestion, relieve nausea, and supply energy.  Other popular uses include to relieve coughs, and for acne and in skincare. Use local raw honey for seasonal allergies. It is highly recommended to not feed to babies under the age of 1 because of botulism spores. Check out your natural grocer or local beekeeper to source it!
Avoid sugar and processed foods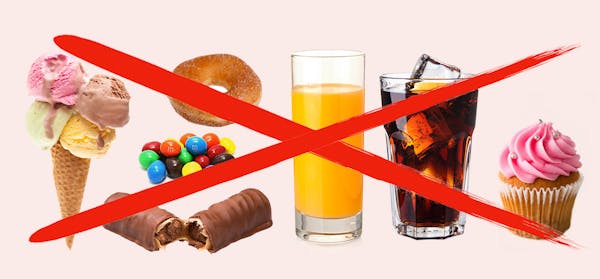 Last, most of us know that in order to feel better, we must eat better. So eat foods that are good for you – plant-based, grown in the ground, back to the basics. Not made in a lab or processed in a factory. It's simple to say but harder to do: avoid added and refined sugars, various dyes, as well as processed foods. An easy way to put this in action is to stick the edges of the grocery store for the fresh produce. In all: be mindful of the food you eat, and take note of how you feel after you eat something. Start feeding your body more of the plant based nutrients it craves!
Before you go, don't forget about the Great Elderberry Challenge!
Save 20% on my favorite elderberry using the code ELDER2019 at this link! With your purchase you get a free challenge guide which explains the benefits of elderberry and synergistic herbs for daily use, plus offers other tips for winter health and a printable to keep track of daily supplements.
The challenge is this: to use elderberry daily through the fall and winter to benefit your family's wellness, to track your families health, and to reap the benefits! Elderberry Elixir is available in both adults and a kid's glycerin tincture.
This offer is only available through Monday, August 26th… so get to it!
~Katherine Newsom writes at Simple Natural Mama
If you like this and want to hear more, consider sharing with your friends, signing up for my mailing list to gain access to our members-exclusive resource library, and joining our Simple Natural Mamas! Facebook community for learning, chat, and support.
P.S. Now through 8/26, shop at my favorite herbal company and save 20% on my favorite elderberry using the code ELDER2019! And while there, take the Great Elderberry Challenge complete with printables for healthy fall habits and reminders!
P.P.S. Try a FREE 2-oz Elderberry Elixir! Just pay shipping, one per household. Shop here for the special offer!